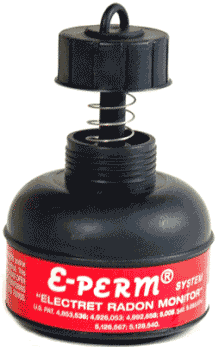 We recommend testing during the heating season (within approx. October to April) using long-term tests (at least 90 days). Please deploy the E-PERM home radon test within two weeks from the date it is received.
To purchase a short-term test or to place an order by phone, please call: 1-800-263-5803 option "4"
Details: 
Health Canada and C-NRPP certified device
Free shipping
Test analysis from C-NRPP Certified Radon Analytical Laboratory
Direct live access to the Certified Home Radon Measurement Professional (9am-5pm Standard Eastern Time)
Canada Post Strike
Orders will continue to ship by Canada Post even while the strike is on so long as they continue to strike on a rotating basis. If/ when Canada Post changes to a full strike where no mail is moving, orders will wait to ship until the strike has been resolved or returns to a rotating basis.  We sincerely apologize for any inconvenience!
For those who prefer not to wait, there is the option of paying the shipping costs to have the order delivered by courier. Simply call our toll-free number (1-800-263-5803, option 4, ext.221) to arrange for shipping by courier.
Home Radon Test


February 25, 2018 - February 25, 2099




8:00 am - 5:00 pm