Tim Armstrong, Chair of the Board of Directors of the Radiation Safety Institute of Canada, is pleased to announce the upcoming Toronto event marking the dedication of the Institute's National Laboratories in honour of the Institute's late President and CEO, Dr. Fergal Nolan.
The Saskatoon Dedication Ceremony took place on September at the RSIC National Laboratories. For more information about the event please visit the Dedication Ceremony page.
The Toronto Ceremony will include the unveiling of a plaque, welcoming notes from the Chair of the Board, Government officials, RSIC Board Directors and Nolan family members. The official ceremony will be followed by a cocktail reception.
The Ceremony will take place at 4:00 pm on Friday October 21, 2016 at the St. Thomas Room at the iconic Windsor Arms Hotel, located at 18 St. Thomas Street, Toronto, Ontario.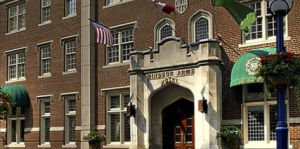 Dr. Fergal Nolan served the Institute with complete dedication, vision and energy for more than 30 years. His passion for the Institute's mission played a defining role in making it the unique national organization it is today. It is the only independent of industry and government non-profit institution in Canada that is solely dedicated to radiation safety. The Institute has been serving Canadians for over 35 years. Our National Laboratories were established in Saskatoon in 1989, with the generous financial support from the Government of Canada and the Province of Saskatchewan. Today the Laboratories provide an array of key radiation safety services to Canadian industries and the public. The Laboratories are the only licensee in North America approved by the Canadian Nuclear Safety Commission to offer personal radiation monitoring program for underground uranium mines.