Our Story
Founded in 1980, the Radiation Safety Institute of Canada is an independent non-for-profit national organization dedicated to promoting and advancing radiation safety in the workplace, in the environment and in the community. Our commitment to the principle of "good science in plain language®" guides everything we do.
The founding of the Institute was a direct response to the human disaster in the Elliot Lake uranium mines, where in the 1950's, 60's and 70's, thousands of miners were exposed to excessive amounts of radiation from radon in underground uranium mines of Northern Ontario. Over 200 of these miners have since died of lung cancer, leaving spouses and families behind.
EDUCATION
Radiation safety courses designed to ensure worker safety and employer compliance with the regulations.
LABORATORY SERVICES
First-class radiation exposure monitoring and testing services are offered by our National Laboratories in Saskatchewan.
CONSULTING & SURVEYS
Experienced scientist are here to help you address an array of radiation related challenges, from licensing to workplace dispute resolutions.
Our Mission
Today the Institute has one mission: PREVENTION of injuries and cancers resulting from unacceptable exposure to radiation. The Institute advances its PREVENTION agenda through advice in radiation safety, awareness building, advocacy efforts and reinforcement of radiation safety networks across the country and internationally. Our PREVENTION efforts are supported by a broad variety of radiation safety services that the institute offers to companies and institutions, labour and community groups and to the general public.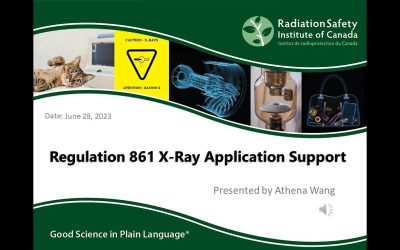 In Ontario, workplaces who use x-rays under 1 MeV for uses other than for human health care must register their equipment with the Ministry of Labour, Immigration, Training, and Skills Development. The Radiation Safety Institute of Canada has recently developed a free...
read more
Questions about Radiation?
The Institute makes its scientist knowledge available to all Canadians and offers a free-of-charge Radiation Safety Information Service. The service provides answers to the questions that workers, employers, unions, government organizations and public may have about radiation safety. The Institute responds to hundreds of enquiries on an annual basis.
Toll Free: 1-800-263-5803
Email: info@radiationsafety.ca
"I thank you so much for the time and the care that you have put into the response to our inquiries… You are very kind in supplying the information that you have. It is very helpful."
– Christine, New Brunswick
"Quite frankly I'm impressed with your customer service."
– Mark, Markham, ON
"I really appreciate this personal level of service"
– Christopher, Mississauga, ON
"I wanted to let you know how much I enjoyed your course. The course content was very well presented and very educational. You are such a kind group of people which made my week very welcoming and comfortable."
– Bobbie L., Nuclear Medicine Dept. Central Alberta Medical Imaging Services, Ltd.
"Thank you so much for a totally fascinating presentation and lecture last night. The feedback from the students was glowing; they so appreciate having impossibly difficult concepts made understandable and accessible."
– Dee K, University of Waterloo
"Thank you for your prompt and very professional work in examining electromagnetic field levels within the Toronto house we bought last month. We found that very few people involved in home inspection knew anything about this subject area, and it was hard to feel confident with people who didn't actually have any specific qualifications to do this work."
– Salem A.
"Thanks for a very informative week and great presentations for putting a complex subject into simple language"
– Jean C.
"I took your course on X-ray safety earlier this year. It was very well done and has been a big help to me in determining requirements here in our manufacturing facility."
– Richard B. GE Healthcare