"Radon is a naturally-occurring radioactive gas that is produced naturally by the breakdown of uranium in the ground and can get into your home undetected and increases your risk of developing lung cancer. According to Health Canada and the World Health Organization, it is the second leading cause of lung cancer after smoking. Did you know It is also the deadliest of all cancers?  Radon gas is the kind of hazard that you can't see, smell it or taste. The only way to know if it is present in YOUR home is to test"
Order the Test Online
---
Our radon testing facility is a C-NRPP Certified Radon Analytical Laboratory. For your Home Radon Testing Service, we use a C-NRPP certified device, each analyzed by a Certified Radon Measurement Professional.  We keep to the highest quality control standards throughout the process to make sure you get the results you feel absolutely confident about. 
Please note that The Radiation Safety Institute of Canada and Health Canada recommend using long-term tests (at least 90 days).  For the 90-day tests provided by the RSIC, it is recommended that tests be performed during the heating season (within approx. October to April)
What is included in the service price of $55?
One E-PERM radon monitor, which can be used for one 3-month long test
Free shipping from the lab to the Client
Laboratory Analysis fees
Letter from Manager of our Laboratories explaining the results
Quality Assurance Procedures
Access to live support from Certified Home Radon Measurement Professionals
Order the Test Online
You can also order the test by calling 1.800.263.5803 (option 4) or by sending an email to radon@radiationsafety.ca
How do we test for Radon?
The Radiation Safety Institute of Canada uses a radon monitor called E-PERM to measure radon concentrations. The E-PERM is our choice technology because it is accurate, reliable, easy to use, and environmentally friendly (the Institute can re-use the components numerous times for many individual home tests). We simply send you an E-PERM by mail, with easy instructions on how and where to set it up. After that, all you have to do is remember to send it back to us to get your results!
Why E-PERM?
The E-PERM is an electret ion chamber device which provides an accurate and reliable means for measuring indoor radon concentrations.  Unlike charcoal devices the E-PERM is not affected by humidity or temperature changes. The E-PERM is a true integrating device, meaning  it does not show bias towards any part of the testing period and records the total average radon exposure.   In contrast to alpha track devices the E-PERM is environmentally friendly (the Institute can re-use the components numerous times for many individual home tests).
How long does a test take?
While we offer you two options:  a short-term test (7 days)  and a long-term test (90 days), we follow Health Canada recommendations and encourage you to conduct the long-term radon test.
How are we Different?
Canadian-based Laboratory

Founded in 1980, the Radiation Safety Institute of Canada has over three decades of experience in radiation exposure monitoring.  Our National Laboratories run the Radiation Safety Institute of Canada's Radon Monitoring Program.  All radon tests are processed and analysed by our own laboratory staff.  This means that you get personalized service and attention to details when results are being generated.  We do our best to process your test result quickly, and we aim to send you the results letter within 7 business days of receiving back the monitor.  However, in peak season when we are processing hundreds of monitors, results may take 3-4 weeks to be sent out.  We always aim to get the results out as soon as we can.  The fact that we process the tests in our own facility also means that if you need to speak to someone about your results, our highly experienced scientists are only a phone call away.

Quality Assurance

The Radiation Safety Institute of Canada's home radon testing service follows internationally recognized protocols for quality assurance.  Ten per cent of the radon tests we provide are paired with a duplicate test and three per cent are paired with blanks.  These tests ensure that the measurements are repeatable and not subject to bias from the environment.  At our National Laboratory the E-PERM reader and reference electrets are calibrated annually, and performance tests are performed each year by an independent third party to ensure that our results meet specified accuracy requirements.  The E-PERM components are carefully stored and visually inspected, tested and cleaned before being assembled for each order.  The end result is that we provide you, the customer, with consistently accurate and reliable results. Best of all this rigorous quality assurance comes at no additional cost to you.

Most importantly, the Institute ensures that every radon client receives the result that they pay for.  If for any reason the device returned by the client is beyond the acceptable quality assurance limits or a result cannot be provided, a retest is supplied by the Institute at no additional charge.

Certification

All of the laboratory staff providing our home radon testing service are Radon Measurement Specialists certified by the C-NRPP (Canadian National Radon Proficiency Program) and follow Health Canada's protocols for radon testing.  They are also registered members of AARST (American Association of Radon Scientists and Technologists) and CARST (Canadian Association of Radon Scientists and Technologists).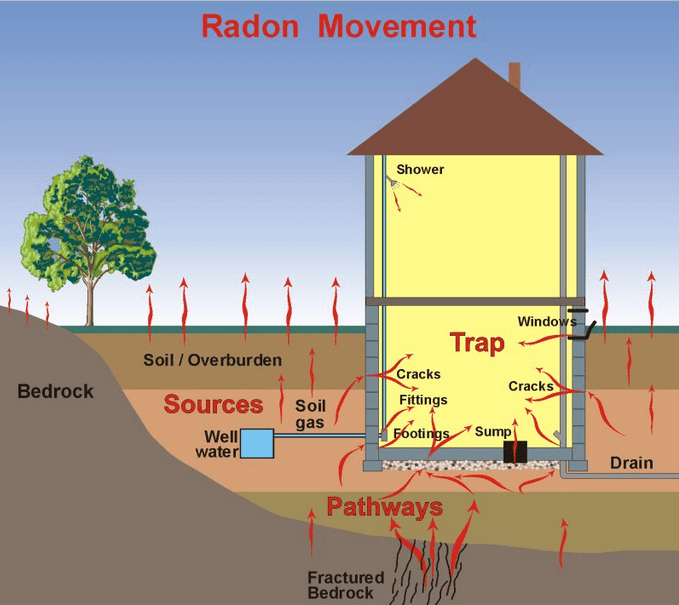 Factors that control the distribution and movement of radon and typical entry routes into a home for the radon, from Natural Resources Canada
What is Radon?
Radon is a radioactive gas that is produced naturally by the breakdown of uranium in the ground and can get into your home undetected through foundation cracks and similar unsealed openings. You can't see it, smell it or taste it. The Radiation Safety Institute of Canada, Health Canada, the US Environmental Protection Agency and most European countries recommend testing your home for the presence of radon gas.
What are the Risks?
Long-term exposure, especially for smokers, to elevated levels of radon in the home increases your risk of developing lung cancer. Radon is the 2nd leading cause of lung cancer after smoking.  According to Health Canada, an estimated 16% of lung cancer deaths among Canadians are attributable to indoor radon exposure.
How to find out?
Almost all homes in Canada have some radon, the question is: how much. The current Canadian guideline for radon in indoor air is 200Bq/m3.
The only way to know the radon level in your home is to take a simple and inexpensive "do-it-yourself" test.  Long term testing for a minimum of 3 months is recommended. Measurements gathered over a longer period of time will be more accurate and will provide a much better estimate of a persons annual average exposure. If high levels of radon are detected in your house, you can take steps to remove it. But the single, most important, first step in this process is getting your home tested. If the radon level is found to be high, it can be fixed at a reasonable price.
What is the best time for testing?
The best time is now!
The heating season, October to April, is the best time to test your home for radon gas. During this period we tend to keep our windows and doors closed, which allows for a more accurate measurement of radon concentrations in the indoor air.  
---
Additional Resources
Radiation Safety Institute of Canada's Radon Factsheet
Order a Home Radon Testing Kit
Health Canada Radon Advisory: It's Your Health – Radon
Press Release – 2013 National Radon Action Month
Find a Canadian C-NRPP Certified Radon Measurement or Mitigation Professional
Canadian Lung Association – Information about Radon